About the University
---
Kakatiya University was established on 19th August, 1976 with the upgradation of the erstwhile Post-Graduate Centre of Osmania University. The University was established primarily to fulfill the aspirations of the Telangana people for higher education.
Kakatiya University has 24 Departments with a network of 18 constituent colleges and about 529 affiliated colleges. It has Post-Graduate Colleges at Subedari (Hanamkonda), Khammam, Jangaon, Jayashankar Bhoopalpally, Mahabubabad and University Engineering College at Kothagudem. Among the affiliated colleges, the University has 395 Arts & Science; 3 Law; 8 Engineering; 53 Education; 38 Management; 8 MCA and 24 Pharmacy colleges under its jurisdiction.
The Kakatiya University was first accredited with B+ grade in the year 2003. The University was subsequently re-accredited with 'A 'grade in 2009 and 2017. It occupied 38th position in national level rankings by India Today-Nielsen Survey. Kakatiya University established Memorandum of Understanding (MoU) with several universities and research institutes for collaborative research.
Kakatiya University crossed the milestone of forty years and is poised to achieve greater academic excellence with dedication and commitment in the years to come.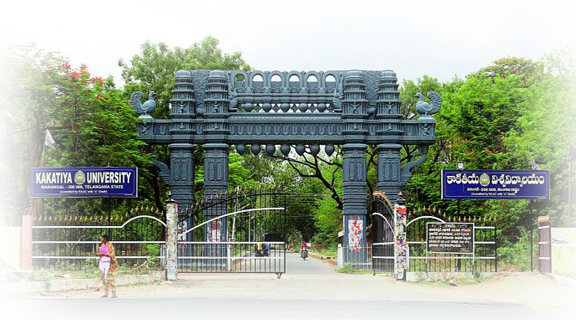 About the Department
---
The Department of Zoology was established in the year 1968 as PG Centre under Osmania University,Hyderabad. Later, it was shifted to the existing campus in 1973 as a full-fledged Department, with spacious classrooms, laboratories for students and research labs for faculty members in addition to museum, library and state-of- the-art Conference Hall, Computer Lab with internet facility, all housed in a built area of about 15,000 sft and Laboratory space of about 8,000 sft. Since then it is flourishing into a quality education centre for the students and research scholars in the subject ZOOLOGY.
The Department has well equipped laboratories, advanced research facilities. The Department does exceedingly well in the fields of higher education and research and also establishes the thrust areas like physiology, Enzymology, Seri-biotechnology, Infectious Diseases, Metabolic Disorders, Bioinformatics, Computational Biology, Environmental Biology and Entomology.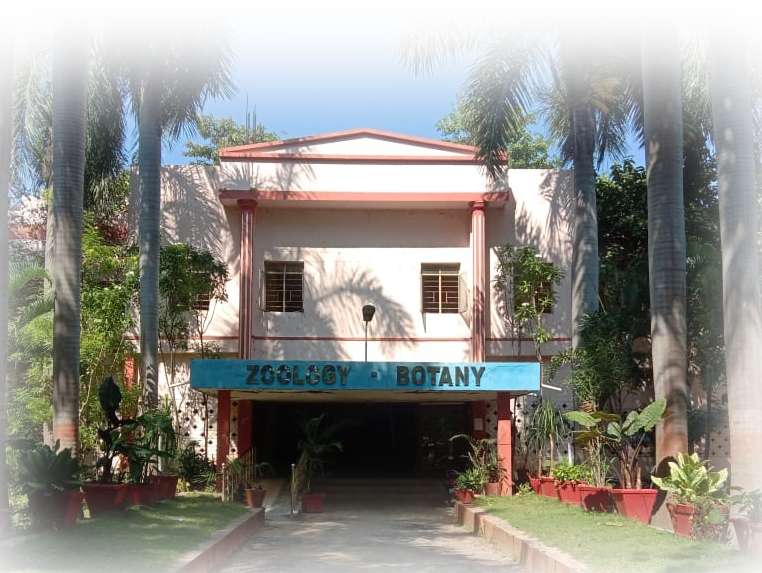 About Seminar
---
Health is a crucial factor in national prosperity. Life Science and Health Research is essential for improving global health, health equity and economic development. The primary purpose of the seminar is to explore the existing concepts, recent findings and challenges in all avenues of life sciences and health research. RIHLSR-2023 is an interdisciplinary event that invites participants from various Universities, research institutes, industries and diagnostic health centers to share their research experiences and exchange ideas on various aspects of Life Sciences, Medical, Environmental and Health Research. This seminar also provides an opportunity to communicate with leading scientists, researchers, academicians and students from all around the India.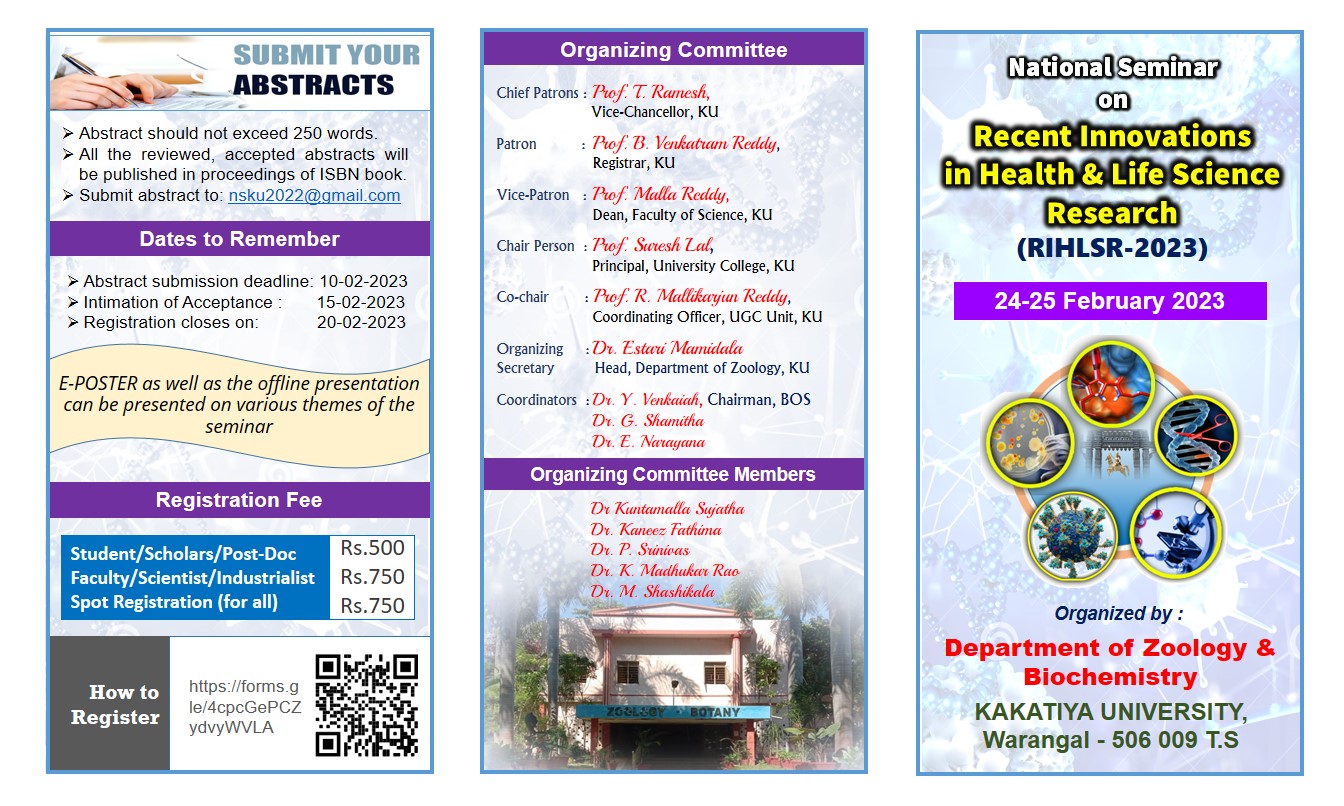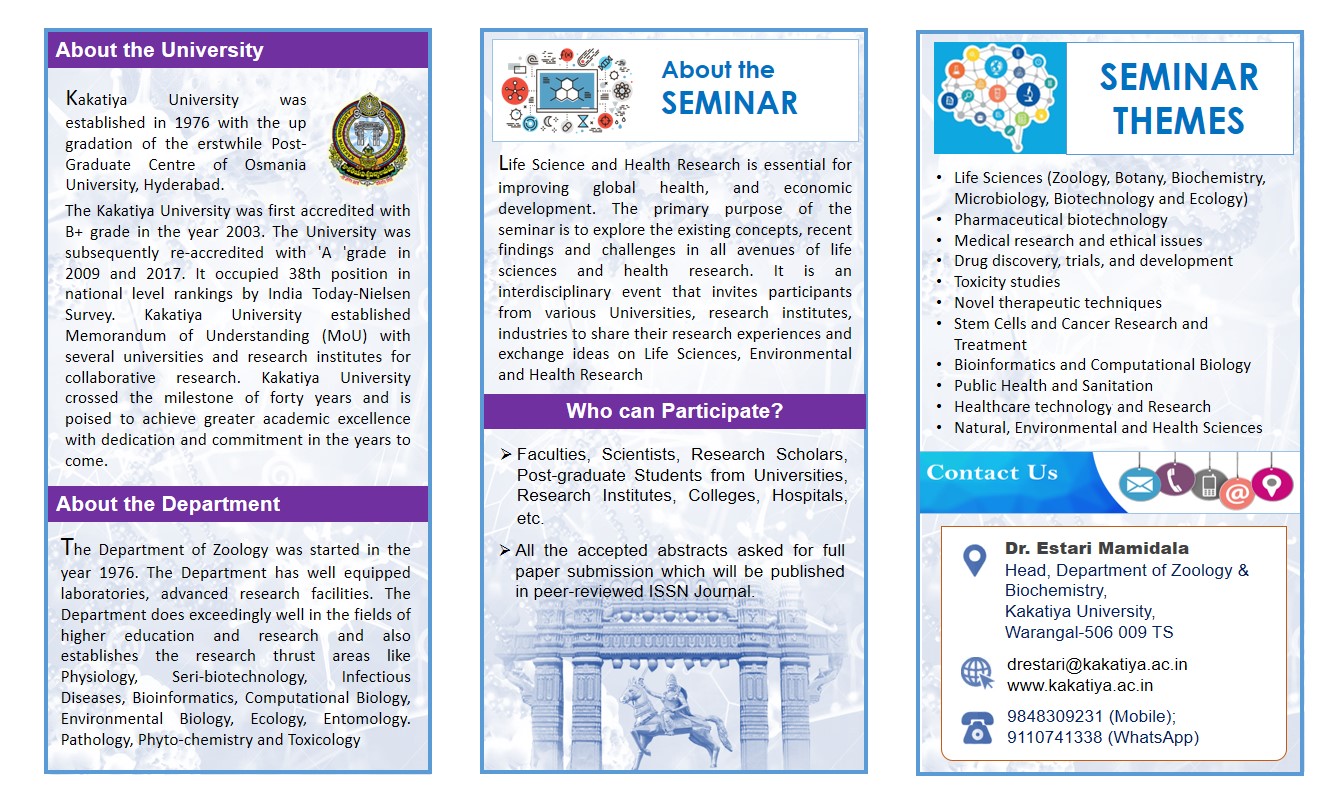 Seminar Themes
---
Life Sciences (Zoology, Botany, Biochemistry, Microbiology, Biotechnology and Ecology)


Pharmaceutical biotechnology


Medical research and ethical issues


Drug discovery, trials, and development


Toxicity studies


Novel therapeutic techniques


Stem Cells and Cancer Research and Treatment


Bioinformatics and Computational Biology


Public Health and Sanitation


Health care technology and Research


Natural, Environmental and Health Sciences


Abstract & e-poster Submission
---
Abstract should not exceed 250 words.


All the reviewed, accepted abstracts will be published in proceedings of ISBN book.


Submit abstract to: nsku2022@gmail.com


E-POSTER as well as the offline presentation can be presented on various themes of the seminar.


Submission Deadlines
---
Abstract submission deadline: 10-02-2023.


Intimation of Acceptance: 15-02-2023.


Registration with abstract submission closes on: 20-02-2023


Who can Participate?
---
Faculties, Scientists, Research Scholars, Post-graduate Students from Universities, Research Institutes, Colleges, Hospitals, etc.
Organising Committee
---
Chief Patron: Prof. T. Ramesh
Vice-Chancellor, Kakatiya University,
Patron: Prof. B. Venkatram Reddy
Registrar, Kakatiya University
Vice-Patron: Prof. Malla Reddy
Dean, Faculty of Science, KU
Chair Person: Prof. Suresh Lal
Principal, University College, KU
Co-chair: Prof. R. Mallikarjun Reddy
Coordinating Officer, UGC Unit, KU
Organising Secretary: Dr. Estari Mamidala
Head, Department of Zoology & Biochemistry, KU
Coordinators: Dr. Y. Venkaiah, Chairman-Board of Studies
Dr. G. ShamithaDepartment of Zoology & Biochemistry, KU
Dr. E. NarayanaDepartment of Zoology & Biochemistry, KU
Organising Committee Members
---
Dr. Kuntamalla Sujatha, Sericulture Unit, Department of Zoology, KU
Dr. Kaneez Fathima, Sericulture Unit, Department of Zoology, KU
Dr. P. Srinivas, Department of Biochemistry, KU
Dr. K. Madhukar Rao, Department of Biochemistry, KU
Dr. M. Shashikala, Department of Biochemistry, KU
Registration Fee
---
Student/Scholars/Post-Doc: Rs.500.


Faculty/Scientist/Industrialist: Rs.750.


SSpot Registration (for all): Rs.750


How to Register?
---
E-POSTER as well as the offline presentation can be presented on various themes of the seminar.


Pay the Registration fee and fill the registration form with this link: https://forms.gle/4cpcGePCZydvyWVLA (or)
After payment and submission of registration fee through the above online link, submit the abstract to Email:: nsku2022@gmail.com.


Full Paper Submission & Publication
---
All the accepted abstracts asked for full paper submission which will be published in peer-reviewed ISSN Journal.
Contact Us
---
Dr. Estari Mamidala
Head & Associate Professor, Department of Zoology
Kakatiya University
Warangal-506009, Telangana State, India
Phone: 9848309231 (Mobile); 9110741338 (WhatsApp).
Email Address
Websites:
Web Sites
Click on following links for photos and proceedings
---