Home
» Centre for Foreign Relations, Research & Consultancy (CFRAC)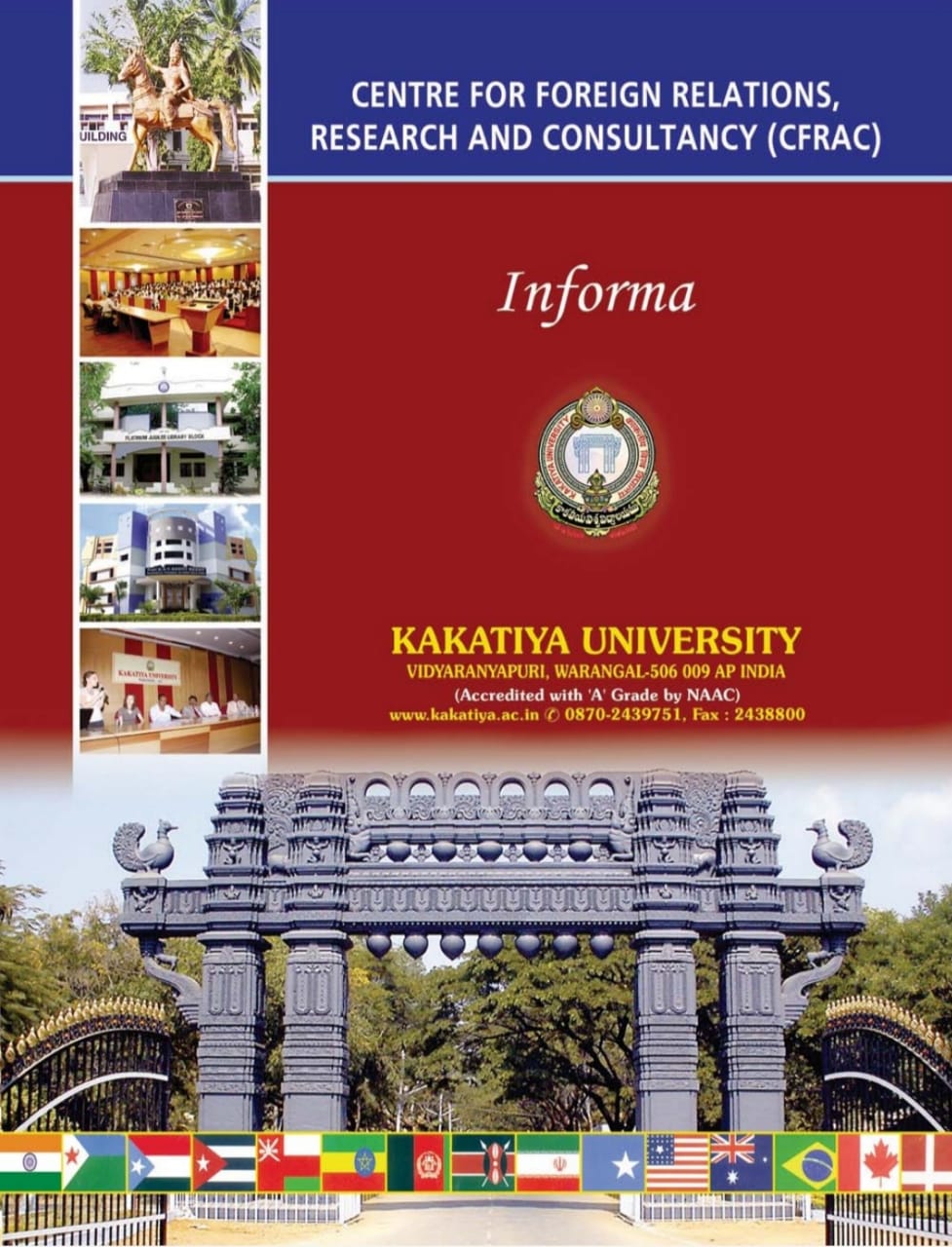 The Centre works with a vision: Globalization by thinking locally and acting globally with the motto 'EXPAND YOUR HORIZONS'.
The Centre aims at augmenting University resources through foreign admissions and donations, entering into MoUs for research and industry linkage and extending teaching another consultancy services on-campus and off-campus.
The CFRAC has an independent office in the University Auditorium.
Structure and Responsibilities of the First Wing of CFRAC
Single window agency supervising the admission of foreign students,

Provides the international students with information on courses and services offered by the University.

Collect various types of fee from foreign students and thus generates funds for the University,

Organizes orientation programs for foreign students to help their acclimatization and cultural adaptation,

Helps foreign students improve their communicative competence in English by arranging bridge courses.
·
The CFRAC is located in the University Auditorium and it is headed by a Director, who is in constant contact with the international institutions, organizations such as EU, the Embassies/Consulates of India in foreign countries, etc. He helps in updating the required information with regard to the curricula in vogue and the nature of programs pursued at the University for the benefit of the prospective enrolment of foreign students. The kind and quality of service extended by the CFRAC in this sphere has been in good demand and appreciation. The foreign students can contact the Director and the staff at CFRAC for any help on academic, personal and health matters at any time during their period of stay. The CFRAC assists in foreseeing relations between Universities, both Indian and foreign, and helps in exchange programmers involving staff, scholars and students.
· The International Office plays an important role in operational regular mobility programs and prestigious fellowships/ scholarships. Over the years, International Relations Office has expanded its programs and activities to match International Standards
WHY STUDY AND RESEARCH AT KAKATIYA UNIVERSITY?
Kakatiya University was accredited with 'A' Grade by the NAAC in the year 2017. It is an affiliating University with 28 Departments on a sprawling campus of 651 acres besides four satellite campuses at Subedari, Khammam and Kothagudem on another 500 acres. It has 244 Undergraduate and 61 post- graduate colleges.
The University has 120 Academic programs at UG and PG level. It introduced vocational courses such as Industrial Chemistry, Agricultural Botany and Fishery Biology and engineering courses like ECE, EEE, Mechanical, Computer Science Engineering , IT, Mining Engineering, at the UG level.
The University offers 62 programs with over 680 courses under Distance mode through School for Distance Learning and Continuing Education (SDLCE) at four regional centers and above 150 study centers.
As many as 15 Departments have SAP and DRS programs. The University has highest number of major Research Projects 30 by UGC
Various agencies like UGC, DST, DBT, CSIR, ICHR, DEDO, AICTE, ICMR, German Academic Exchange Service (DAAD), volkswagon Foundation, Germany, etc., are sponsoring 245 research and academic programs. The University has produced state of the art research equipment and made it available at Central Instrumentation Centre (CIC)
Faculty of all disciplines, 93 permanent faculty and some faculty had acquired advanced knowledge from various foreign universities, some of the retired senior professors are still engaged in teaching and research, 92 academic consultants, 447 non-teaching staff excluding 515 superannuated and 300 time-scaled staff, are committed to and well-versed in their respective subjects and responsibilities. The teacher has excelled in imparting quality education and also represented their respective departments in several national and international seminars and brought laurels to the University for their excellent research.
International Student Activities in Campus:
All international students are actively participating in their respective academic programs like practicals, seminar presentations, paper presentations in the conferences nationally and internationally and republic day and independent day celebrations. and they also interact regularly with their classmates and faculty members.
The interaction between each other improves sharing experiences, working through issues, and discussing solutions with other international students can be helpful and cathartic.
India is a culturally diverse country, the international students actively participate in our cultural events and exchange their cultural views/ ideas such as dressing, food habits, cultural festivals, cultural dances, marriages and games ) with us.
All the foreign students are celebrating their festivals, cultures and traditions with other foreign students.