Home
» KU College of Engineering & Technology, Kakatiya University Campus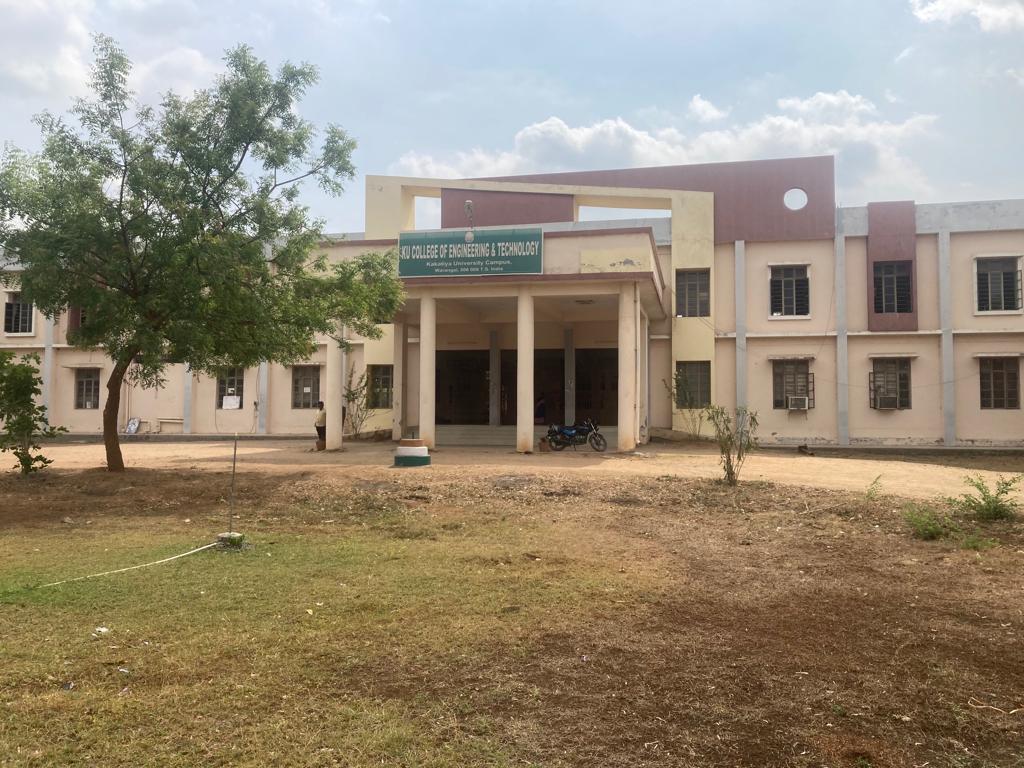 Click Here for College Website
KU COLLEGE OF ENGINEERING AND TECHNOLOGY
The KU College of Engineering and technology was established in 2009 with four programs in CSE EEE ECE & ME. Currently, KUCET is offering programs of Six UG (CSE, ECE, EEE, Civil, ME & IT), two PG (DC,CSE), and PhD programs. The infrastructure in the College includes excellent computer facilities, air conditioned seminar halls, well ventilated class rooms, well equipped laboratories, well stocked library etc..
Right from the establishment, the college has attracted students of better rank holders of EAMCET and ECET at the state level. With progressive efforts made by the administration, faculty as well as students, the college has proven itself in academic excellence which resulted in progressive intake of students with much better ranks. The College has received admissions from foreign students for Master and PhD engineering programs.
Apart from the regular curriculum, the University also concentrates on the arranging value addition programs and courses designed to meet specific requirements in the technical as well as areas of personality development and communication skills. Every year, few students visit premier institutes of DLRL, DMRL, DRDL, RCI, CDAC and ECIL to work on their academic projects. There were campus placements drives of TCS, Army Recruitment, Arvindo Pharma, Value labs, West Line (Merchant Navy) and Teradata to our students. The AMCAT test and TASK programs are there for enhancement of placement opportunities. Our students are scoring good marks in various competitive exams of GATE, CAT, PGECET, TSPSC and other exams. Moreover, there are 20% to 40% of students regularly leaving every year to higher education at foreign universities. Fa
The college has signed an academic MOU with Centre for Development of Advanced Computing (C-DAC), Hyderabad, Govt of India and University of Malaysia. The college has organized successfully " International Conference on Photonics, VLSI and Signal Processing (IC-PVS)" and proceedings published by Elsevier procedia. The Department of Mechanical Engineering was co-organizer of International Conference On Vibration Problems (ICOVP-2015) held in February 2015. The proceedings of this conference is published in the form of special series by Journal of Physics (JOP) of Institute of Physics (IPP) UK. In addition, the college also has organized several student co-circular activities of student workshop on Defense Electronics and KLIEO'12 Students Fest The guest lectures are being arranged from expert faculty from premier institutes and organizers. This college also has established a IETE (Institute of Electronics and Telecommunication Engineers) student's chapter in 2017 and also successfully organized National Workshop on PCB Design and Fabrication. The students chapter is actively involves in the current trends in communications. The Department of Mechanical Engineering has bagged 2nd position in Anveshan- Central Zone Research Convention organized by Association of Indian Universities. Some faculty members publish research papers in journals of UGC CARE, SCOPUS, SCI, EI, and Web of Science Impact Factor.
In addition, the college is organizing regular student activities of NSS, NCC, Fresher Day, Student Fest, and Annual Day,.
The College achieved AAA ratings as published in carrier 360 magazine. Now it is marching towards the excellence in the field of Science and Technology.