Home
» Department of Bio Technology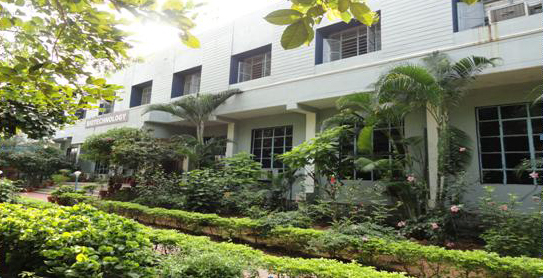 Biotechnology is an interdisciplinary course which encompasses all basic science subjects. It is a technology with profuse agricultural, medicinal and industrial applications. It was established with an objective to provide teaching and research to young students and equip them to meet the growing need of the state and country. The seeds of this department were sown in the Department of Botany in the form of introducing Plant Tissue Culture as one of the specialization in Botany during 1984-1985 through the assistance of UGC VII plan. Later the same specialization was restructured as Plant Biotechnology. Through inputs of active teaching and research by committed teachers, the specialization has got enough platform to elevate the specialization into a separate course. In the year 2000 under the aegis of Department of Botany, M.Sc. Biotechnology took roots. The course was inaugurated on 23rd August, 2000 by renowned scientist Prof. Asis Datta, Former Vice- Chancellor, Jawaharlal University, New Delhi.
OBJECTIVES:
To train students (from rural areas) in Biotechnology at Post Graduate Level.
To create intelligent and skilled human resource to cope up with the development of science and industry.
To motivate students to enter into modern research and technology
Collaborations/ MoUs of Department:
Botanical Institute, LMU , Munich ,Germany,
State Agricultural Biotechnology Centre, Perth, Western Australia
Institute of Plant Molecular Biology, Groningen University, The Netherlands
National Centre for Genetic Resources & Biotechnology, CENARGEN/EMBRAPA, Brazil.
Alumni:
So far sixteen batches of students (480 students) have left the portals of the Department with flying colours. As on today there are no backlogs and re -admissions. Our alumni are placed in different institutes, laboratories and universities, both in India and abroad. They are doing research in USA, Germany, Australia, UK, The Netherlands, Belgium Taiwan and Hungary etc. They have achieved good score in TOEFL & GRE exams. Several candidates were qualified CSIR, AP-SET entrance examinations. This is possible because our students undergo summer training in Biotech companies like CCMB, Shantha Biotech, Bharath Biotech, Reddys Lab, Indian Immunologicals, Biological Evans, Sri Biotech and in companies under Biotechnology Consortium India Limited (BCIL) of the DBT, New Delhi. Most of the students are employed in R & D centers, Biotechnology Industry and in Academic Institutions.
Succession of Heads
| | | |
| --- | --- | --- |
| Name of Head | From | To |
| Prof.K.Subhash | 2004 | 2006 |
| Prof.A.Sadanandam | 2006 | 2008 |
| Prof.N.Rama Swamy | 2008 | 2010 |
| Prof.A.Sadanandam | 2010 | 2013 |
| Dr.A.V.Rao | 2013 | 2015 |
| Dr.P.Srinivas | 2015 | 2016 |
| Dr.A.V.Rao | 2016 | To date |
Succession of Chairman, Board of Studies
| | | |
| --- | --- | --- |
| Name of Head | From | To |
| Prof.K.Subhash | 2001 | 2002 |
| Prof.A.Sadanandam | 2002 | 2004 |
| Prof.N.Rama Swamy | 2004 | 2006 |
| Prof.K.Subhash | 2006 | 2008 |
| Prof.A.Sadanandam | 2008 | 2010 |
| Prof.N.Rama Swamy | 2010 | 2014 |
| Dr.P.Srinivas | 2014 | 2015 |
| Dr.A.V.Rao | 2015 | To date |