Home
» Department of Sociology & Social Work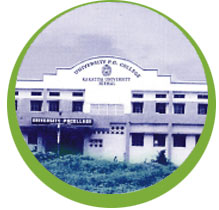 Established in 1991 as the first department at the University P.G. College, Nirmal, it offers M.A.(Sociology) course, M. Phil. and Ph. D. research programmes. It subscribes to several journals and maintains a departmental library with a good collection of reference works and textbooks. The faculty members have undertaken the projects and surveys of the Government of Andhra Pradesh with regard to a large tribal population. The department is using the expertise of the personnel at ITDA, DRDA and other district agencies to strengthen the ADIVASI MUSEUM, besides acquiring the artifacts and articles from different sources. The department successfully organized the 6th Sociological Conference of the A.P. Sociological Society in 2004.
The department of Social Work has established in the year 2007 under self- finance basis, since then, nine batches were passed out successfully and got the placement in various GOs and NGOs in the State of Telangana and Andhra Pradesh. The Master of Social Work (MSW) is the only course which covers all aspects of not only rural development but also train in the areas of participation, decision making and other allied societal activities.
The Department aims to develop competent social work professionals who combine a strong theoretical foundation with a unique and sound practical experience. The students of social work participated in prestigious kutumba samagra survey and survey on flagship programmes of government of Telangana.
The department flourished with a senior Professor of Sociology, holding the Chairman, Board of Studies & Coordinator and 6 members of qualified faculty are having UGC-NET, SET and pursuing Ph. D.s in various universities. The department conducted various workshops, symposiums and orientation programmes. The department also introduced Ph. D. Programme for Academic year 2016-2018.
Offering Specializations
1. Urban and Rural and Tribal Community Development
2. Medical and Psychiatric Social Work
3. Family and Child welfare
4. Human Resource Management
Placements
Professional social workers have wide scope of employment opportunities in Government Organizations, Public Sector Undertakings, Industries, MNCs, National and International Voluntary Organizations, Schools and Hospitals. They are recruited as HR Executives, Labour Welfare Officers, CSR Executives, Project Officers, Community Development Officers, Counselors, Probation Officers, Rehabilitation Officers, Medical and Psychiatric Social Workers and Child Development Programme Officer, etc.
Eligibility Criteria for Master of Social Work (MSW)
Any graduate including professional courses like Medicine, Engineering, Law, Pharmacy, Management, Information technology with 40% marks at qualifying examination (for SC/ST students pass marks) are eligible to apply for the MSW (Master of Social Work) course. A minimum of 36 marks should be obtained in Entrance Test as eligibility for admission. But there are no minimum marks for SC and ST candidates.
M.S.W Syllabus for Entrance Examination
Human Society: Meaning, nature and characteristics, Types of society - tribal, rural and urban, Individual and Society, Theories of Origin of society.
Social Groups: Meaning, types and characteristics.
Social Institutions: Marriage, Family, Kinship, Economic Institutions, Educational Institutions, Political Institutions and Religious Institutions, Caste and Class.
Social Problems: Problems related to: Women, Children, Youth, Old-aged, Physically and Mentally Challenged - Crime and Delinquency - Deviance and Control; Correctional Services, Social Welfare - Tribal, Backward Class and other Weaker Sections.
Social Work: Historical and Philosophical origins of Social Work - Philanthropy and Charity: meaning, definitions, nature scope and importance of social work profession, Methods of Social Work - Case Work, Group work and Community Organizations; Fields of Social Work - Child Welfare, Women welfare, Youth welfare, Welfare of Physically Disabled, Mentally Retarded, Destitutes, Orphans and Old age people, Welfare of Weaker sections - S.C., S.T., B.Ds and Minorities : Need and importance of Voluntary Organization in developing and underdeveloped countries. Social Security Services - Legal and Constitutional Provision of disadvantaged Sections.