Home
» University College of Commerce & Business Management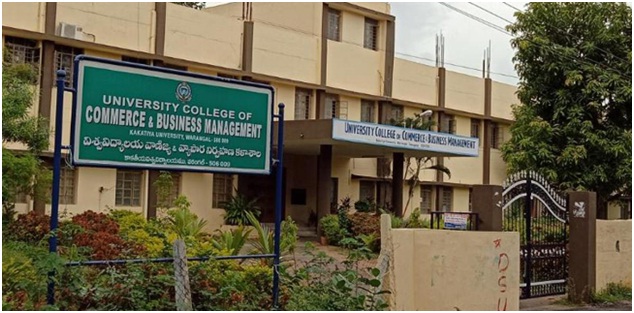 Click Here for College Website
Brief profile of the College with establishment date and key achievements:
The Department of Commerce & Business Management was started during the academic year 1968-69 and it is now one of the prestigious Departments of Kakatiya University. The Department was upgraded into a full-fledged University College in the Year 2013. The college is endowed with qualified and experienced faculty. The college offers M.Phil and Ph.D. programmes apart from M.Com., M.Com. (FA) and MBA on the campus. The faculty offers various U.G. & P.G. programs suchas MBA, Executive MBA, M.Com (FA), M.Com (CA), M.Com (Banking & Insurance), B.Com., B.Com(Computer Applications), B.Com. (Business Analytics), B.Com (Banking & Insurance), B.Com (Tax Procedures), B.Voc., and BBM etc. through itsconstituent and affiliated colleges.
On research front, the college has made commendable progress.The faculty members are actively engaged in their research projects by various funding agencies viz.,UGC, ICSSR, AICTE and Government of Telangana etc. The college has been actively engaged in organizing several State and National Level Seminars, FDPs, Workshops on various contemporary value and relevance. Department organized all India Commerce and All IndiaAccounting Conference have been feathers in the cap of the College.
TS-ICET i.e., Admission test into M.B.A. and M.C.A. courses of all the Universities in Telangana State and their affiliated colleges is being conducted by University College of Commerce & Business Management, Kakatiya University, Warangal on behalf of Telangana State Council of Higher Education (TSCHE), Hyderabad, successfully conducted ICET in 2005, 2006, 2012, 2013, 2014 and TS ICET - 2015, 2016, 2017, 2018, 2019, 2020 and 2021, heading towards 2022. Warangal Branch of Indian Accounting Association was started in the year 2020.
2) 5 Prominent Pictures of the College
Seminar Hall
Computer Lab
Office of the Convener, TS- ICET
ICT Class Rooms
Front & Back View of the College