Home
» University College of Physical Education, KU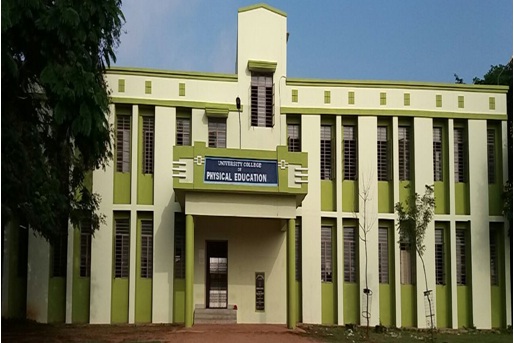 Click Here for College Website
About College:
University College of Physical Education Started 2006 in the Premises Bachelor of Physical Eduation(B.P.Ed) one Year Course of National Counsil for Teacher Eduation(NCTE) Southerern Regional Committee , Banglore, Govt of India Recongniation into University College of Physical Education, Master of Physical Edcucation (M.P.Ed) Two years course Established 2013, Introduced Prof.B.Venkata Rathnam Kakatiya University, Warangal
Prof. V.Gopal Reddy, the Vice-Chancellor of Kakatiya University was the founder of this department. Dean Prof. Ghanta Ramesh garu.
Offering Two year B.P.Ed Course 2015-16 & Two Year M.P.Ed Course and Ph.D programs in Department of Physical Education.
Atheletics, Gymnastics, Volleyball, Kabbadi, Kho-Kho, Hockey, handball, Football, Badminton, Basket Ball Tennis, Tablet Tennis, Cricket and Mass demonstration Activities, Teaching Practices are the specializations being offered in B.P.Ed & M.P.Ed Courses.
The University College of Physical Education, one of the prestigious institutions Kakatiya University Established in 2006 in a sprawling campus of 650 acres located at Bheemaram in Hanamkonda . This College commenced with Under Graduate Courses , in Arts, Commerce and Sciences gradually grown in to a post Graduate centre with multi disciplinary courses of Master's level providing educational opportunities for 3500 students from rural areas University College of Physical Education equipped with well established labs and buildings and also well experienced teaching and Non- teaching staff. This institution has earned good reputation in the jurisdiction of Kakatiya University for its high Academic standards and rated as "A' institution by NAAC it's for its overall performance.
This Institution is equipped with well established labs , Standard Track, well furnished & Multy Gym, labs and library facilities with well qualified and experienced teachers . This Institution gained good reputation. National Medals in Athletes well furnished Dining hall Reading rooms, intake of B.P.Ed -100 Students M.P.Ed- 40 Students. This Two years course Total 280 students Trainees are studying in this campus CET Toppers are seeking Admissions. Nearly 20 Members had got TS PET in merit 1 to 20 Rankers has produced from this Institution. Well Trained Qualified State Best Teacher Awarded has Working in this Institution.