Home
» University Post Graduate College, Khammam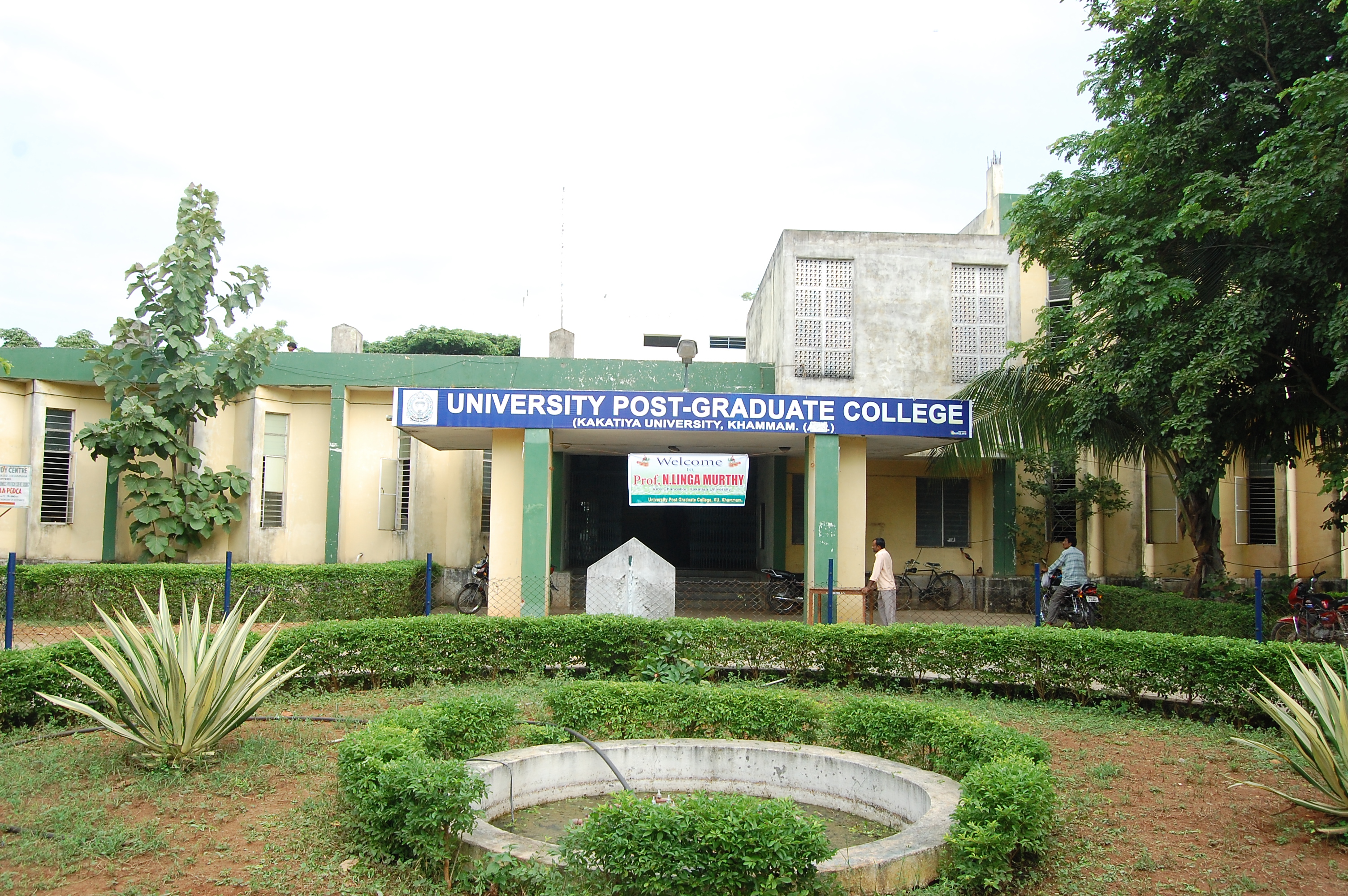 COLLEGE PROFILE:
University Post Graduate College, Khammam is the only one higher educational institution under Government sector, located in the Khammam district of Telangana State. It has many distinctions of its credit. It is the Constituent College of Kakatiya University. It was established in the year 1989 under SR & BGNR Government Degree College later it was taken over by Kakatiya University in the year 1991. It is one of the few Colleges in the State to be recognized as a College with potential for excellence.
The College was started with two Departments namely M.A. Economics and M.Com. Presently there are five (5) courses in the College, apart from MA Economics and M.Com., three new courses were introduced MBA & MCA Departments were started in the year 1997 and M.Sc.(Computer Science) and M.A. (English) were introduced in the year 2005 and M.S.W. were introduced in the year 2014 with an intake of MBA-60, MCA-40, M.Sc.(CS)-30, M.Com-40, MA Economics-30 and MA (English-40) and M.S.W. (40) The total intake is 600.
Prof. N. Linga Murthy was the first Special Officer of the University P.G.College (KU), Khammam, who later became the Vice-Chancellor of Kakatiya University. The College made grate strides during his tenure. His indebatable efforts eventually resulted in the shifting of the College to own building from a rented building. Prof. Iqbal Ali who served as Professor of Economics in this College later became Vice-Chancellor of Satavahana University former Vice-Chancellor of Kakatiya University Prof. B. Venkat Ratnam garu also worked as Associate Professor in the Department of Commerce and Business Management in this College.
The teaching staff of the College comprises highly qualified and experienced Professors, Associated Professor and Assistant Professors numbering 20. Some of them have studied, worked in or visited foreign Universities and published several research papers and books. There number of senior teachers who guide M.Phil and Ph.D. scholars. This College has organized several National and International Seminars and Conferences.
The College has 10.38 acres of land with a requisite open place as well as with the sufficient play ground. The College owes the great debt of gratitude to people representatives and District administration, who have extended their valuable cooperation and generous support in the process of College development especially in the creation physical infrastructure.
The College has been organizing National Seminars/Workshops from time to time with the support of U.G.C. Unit, K.U., State Council of Higher Education and I.C.S.S.R. The Department of Economics organised A.P.Economic Association Annual conferences twice and also 2nd Annual Conference of Telangana Economic Association (TEA) in the year 2018.