Home
» Animal House Facility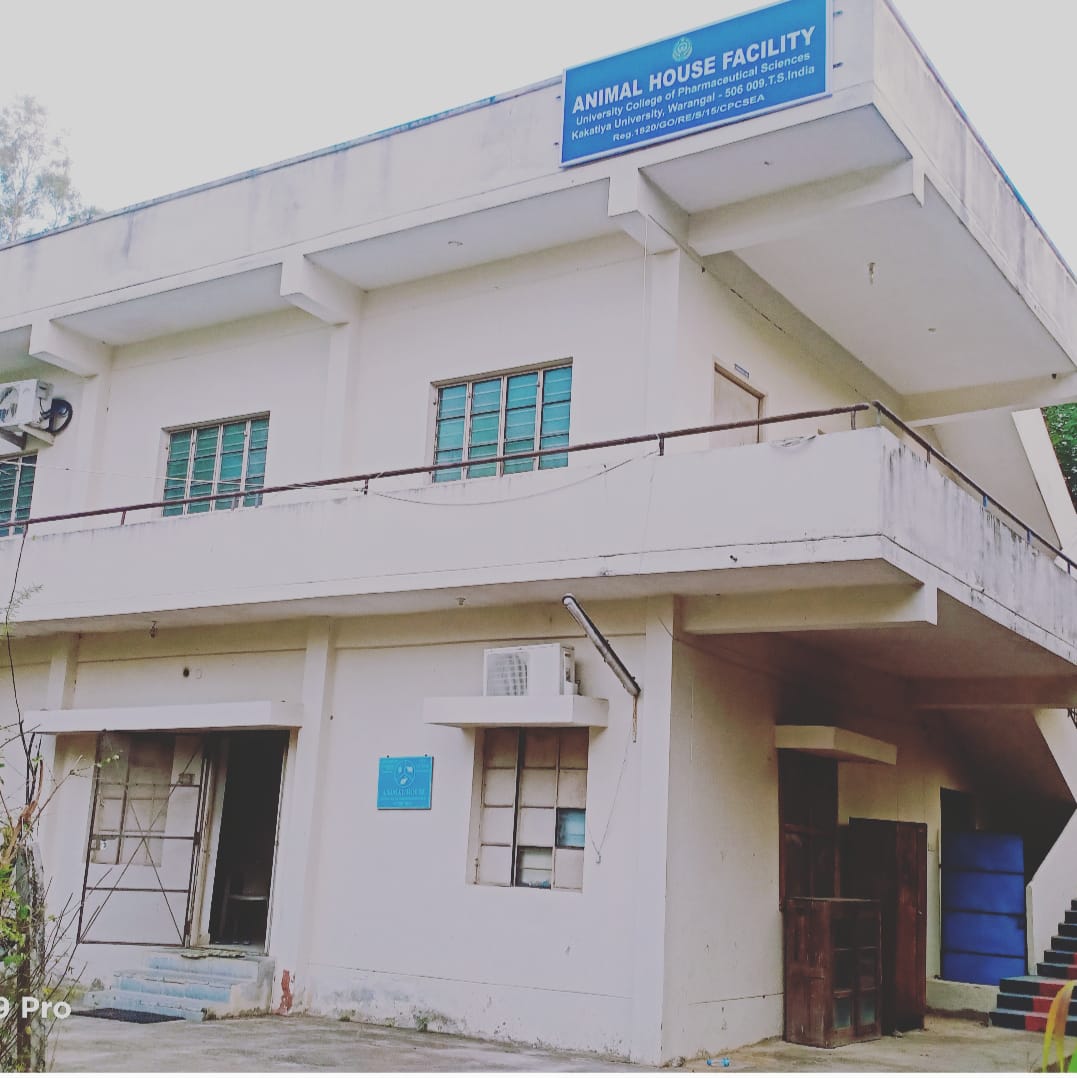 About Animal House Facility
The Animal House of the Kakatiya University was established in 1981. It is a premier institution of animal house facility in Telangana State. A number of animals are used with the humane care in our department for conducting a variety of experiments on animals for biomedical and behavioral research, with the basic objective of, advancement of biological knowledge which is useful for saving the lives and /or alleviating the suffering of human being, animals and plants., However such experiments are performed with due care so as to minimize the pain inflicted on animals. Adequate veterinary care is provided. Daily observation of animals is accomplished by animal technicians who have training and experience in laboratory animal sciences and medicine, are handling the breeding and experimentation carried out by research scientists.

EXPERIMENTAL WING:
It has 14 animal rooms in 2 floors which are used by various research departments. The Standard Operating Procedure (SOP) for Institutional Animal Ethics Committee (IAEC) has been designed to bring out uniformity in the working IAEC, so that consistent views are taken while reviewing the proposals entailing use of animals for experimentation. This manual explains, in clear and simple terms, the CPCSEA approved procedure and rules position.
Mission
Research in bio-medical science is required for improvement of the quality of human life. This improvement stems in part from progress in ameliorating human disease and disability, in part from advances in animal health and veterinary medicine, and in part from the enlargement of our understanding of complex and intricately connected biological systems of human and animal physiology and its disorders. Besides that, work with living animals is vital to continue progress in many areas of basic research. Though there are alternatives in the form of cell and tissue culture, lower animal study or computer simulation, the use of whole animal is irreplaceable. The mission of the Kakatiya University, Hanamkonda Animal House Facility is to provide animals of required specification for research projects of this Institute as well as to carry out a continuous research on laboratory animals. Through research on these animals, scientists have discovered cure and prevention for a number of human and animal ailments. However, with the humane approach to the treatment of lives of the animals and development of alternative techniques, the wastage of animal lives has been remarkably prevented. But this rational use of animals is not enough. It is to be remembered, the fundamental principle is that animals must not be subjected to avoidable distress or discomfort. The other major responsibility of this facility is to ensure the persuasion of 3Rs (Replacement, Reduction and Refinement) of animal experimentation and the ethical principles of animal use are followed as per CPCSEA guidelines.
Animal house CPCSEA Registration
The animal house facility has been registered by CPCSEA and awarded the Registration No. 1820/GO/Re/S/15/CPCSEA. 26/09/2018 to 25/09/2023.
Institutional Animal Ethics Committee
All the experiments involving animals are approved by the IAEC which is constituted by CPCSEA. The IAEC meetings are held regularly to obtain ethical clearance for use of animals in academics and research. The facility maintains all relevant records to ensure compliance to the approvals granted by the committee and progress under each approved protocol is put up for review by IAEC regularly in each meeting.

Name
Designation
Contact
Dr. Ramavat Ravindar Naik,

Technical officer, National Centre for laboratory Animal Sciences(NCLAS)

National Institute of Nutrition,

Jamia smania,

Hyderabad, Telangana,

Contact No:

CPCSEA Main Nominee
Cell: 09000161166,

09014705666

E.Mail:rnramavat@gmail.com

Dr. Jayashree Chiring Phukon

Scientist, Animal House, CSIR Centre for Cellular and Molecular Biology, Hyderabad, Telangana

CPCSEA Link Nominee
Cell:8790624897

jayashreevet@gmail.com

Dr. P. Shiva Kumar

Asst Professor and Technical Officer,Veternary Sciences,Sri PV Narsimha Rao ,Telangana Veternary University,Hyderabad Telangana.

Scientist From outside the Institute appointed by CPCSEA
Cell: 9490567030

drshiva40vpt@gmail.com

Mr. V.Chandra Shekara Patnaik
Non Scientific Socially Aware Nominee appointed by CPCSEA
Cell:9848286307

patnaik.chandra@gmail.com

Dr. Y.Narsimha Reddy

Professor
University College of Pharmaceutical Sciences(UCPSc),

Kakatiya University,

Hanamkonda,Telangana.

Chairman
Cell: 9440705384

ynrku@yahoo.co.in

Dr. N. Prasad Neerati

Associate Professor

University College of Pharmaceutical Sciences(UCPSc),

Kakatiya University,

Hanamkonda,Telangana.

In-charge of Animal House facility and Member Secretary
Cell:9494812120

prasadneerati@kakatiya.ac.in prasadneerati@gmail.com

Dr.Harinath Babu
Veterinarian Doctor
Cell :9866089185
Dr. G. Sammaiah

Associate Professor

University College of Pharmaceutical Sciences(UCPSc),

Kakatiya University,

Hanamkonda,Telangana.

Scientist From different biological System
Cell:98495000471

g.sammaiah@gmail.com

Dr. Y. Venkaiah

Associate Professor

Department of Zoology,

Kakatiya University,

Hanamkonda,Telangana.

Scientist From different biological System
Cell:9849848705

Venkaiahyanamala07@gmail.com
Pharmacological and Toxicological Screening facilities
Our Institute is currently equipped to conduct the following screening procedures using various animal models.
· Acute, sub-acute and chronic toxicity studies of drugs
· Screening of analgesic, anti-inflammatory, anti-pyretic and anti-arthritic drugs
· Screening of anti cancer drugs
· Screening of hepato-protective agents
· Screening of anti-diabetic drugs
· Screening of anti-ulcer drugs
· Screening of anti-parkinson agents
· Screening of pharmacokinetic (PK) study
Details of Animals housed in the facility
| | |
| --- | --- |
| Species | Strain |
| Mice | Swiss Albino |
| Rat | Albino Wistar |
| Rabbits | Albino White |

We procure animals from the CPCSEA approved vendors.
Infrastructural facilities
The structure of our animal facility includesQuarantine room
· Experimental room
· Animal store room
· Procedure room
· Wash area
· Bedding/Feed storage room
· Autoclave room
Instrumentation facility
In-vivo Pharmacological/toxicological screening facility includes rota rod, actophotometer, swimming test apparatus, y-maze, elevated plus maze, eddy's hot plate, analgesiometer and plethysmograph for behavioural screening. Basic equipments such as pH meter, Deep freezer, homogenizer, centrifuge, microscope, calorimeter etc are also available.
Animal care
The animal house is air conditioned and well protected against environment contamination. The animal house team comprises 3 staff members including a Scientist In-charge of Animal House facility, Technical assistant and animal house attendant. The support staff ensures that every part of animal care including feeding, watering, restraining, cage cleaning, record keeping and ordering of animals, feeds and bedding materials.

Veterinary care
Veterinarian carries out regular health monitoring of all animals to ensure that they are free from contagious diseases. Necropsy and autopsy of suspected contagious/infectious animals are performed by the veterinarian and prophylactic measures are implemented.

Waste disposal
The bio-waste disposal procedure is followed as per CPCSEA guidelines.